THE WELCOME SHOW - EIGENHEIM ARTISTS at Eigenheim Gallery Shanghai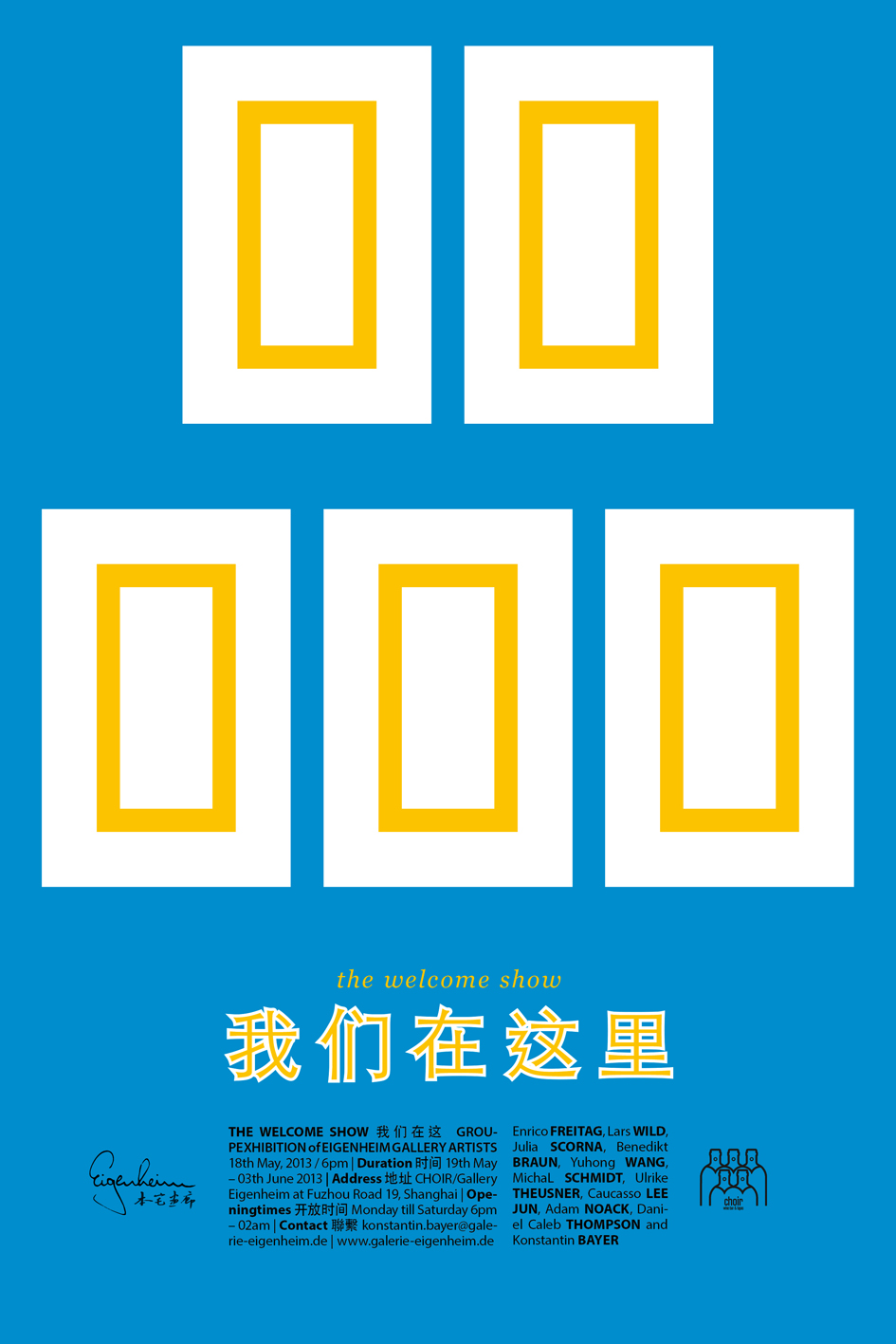 THE WELCOME SHOW 我们在这 GROUPEXHIBITION of EIGENHEIM GALLERY ARTISTS
Enrico FREITAG, Julia SCORNA, Benedikt BRAUN, Lars WILD, Wang YUHONG, MichaL SCHMIDT, Ulrike THEUSNER, Caucasso LEE JUN, Adam NOACK, Daniel Caleb THOMPSON and Konstantin BAYER | Opening 开幕 18th May, 2013 / 5pm | Duration 时间 19th May – 03th June 2013 | Address 地址 CHOIR/Gallery Eigenheim at Fuzhou Road 19, Shanghai | Openingtimes 开放时间 Monday till Saturday 6pm – 02am | Contact 聯繫 konstantin.bayer@galerie-eigenheim.de | eric.hu@galerie-eigenheim.de | www.galerie-eigenheim.de

About the Exhibition THE WELCOME SHOW 我们在这
Since 5 years now, depending on Konstantin Bayers regular stays in China, the Eigenheim Gallery is organizing shows of their artists in various exhibitionspaces and projectgallerys in Shanghai. There was the Island 6 Shack in 2008/09 at Moganshan Lu, Yongkang Lu Art Gallery Number 48 in 2010, a participation of various artists of Eigenheim Gallery at East Link/StageBACK Gallery as well at the Civalrous Cantaloupe Commune one year later. Alongside to other exhibitions for example at ShanghaiArt Space in 2012 the possibility emerged to have a permanend venue for Eigenheim in Shanghai. The winebar Choir, with its extravagant location at Fuzhou Rd.19 on the Bund, invited Bayer to try out a challenging mix of involving an art gallery in a wine bar. Challenging concerning the anxiousness the art either could be lost in such an environment, or the art could be to dominant and thus disturbing the comfort of a wine bar.
But well, we take this as a provocation and try to increase the potency and truth thats in wine and the inspirative conviviality of this place via the encourage spirit of art. In this way social environments like Choir can offer time and space for discourses, some artwork may stimulate to new discussions.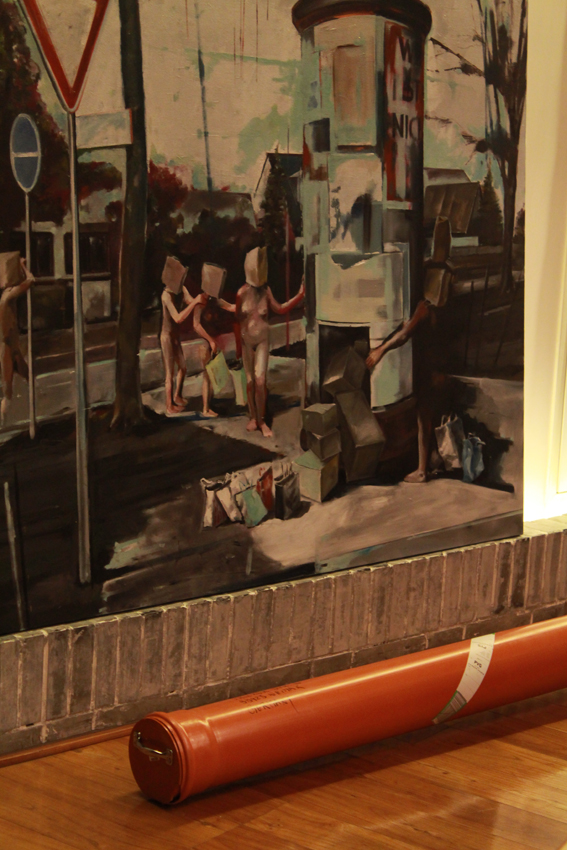 Since 2006 the institution Eigenheim Galerie in Weimar (Ger), in addition to the professional representation of it´s artists, was perceived as a space for contemporary art and communication, as a base for the contemporary Bauhaus, a multifunctional space of constant surprise, but even as a place of cultural exchange between many cultures, especially the German and Chinese. In this regard, there are many parallels in the open-mindedness and curiosity of the team of Gallery Eigenheim and Choir what I like to thank for at this point.
With this exhibition, Gallery Eigenheim would now like to familiarize and introduce itself and of course their artists to a new place and bring their interdisciplinary approach of art towards new people to collect and arouse confidence and understanding of a broad appreciation of art. Partly, this show is somehow a venture because there is no theme, except the individual representation of the respective artists. From a curatorial point of view rather légère maybe just honest and liberal towards the individual work of art. Thus we give space and air on the way to the study of individual items.
There will be shown paintings, drawings, installations, photographies and objects by Enrico Freitag, Julia Scorna, Benedikt Braun, Lars Wild, Wang Yuhong, MichaL Schmidt, Ulrike Theusner, Caucasso Lee Jun, Adam Noack, Daniel Caleb Thompson and Konstantin Bayer.