W & M – Wang Yuhong and Mario Weinberg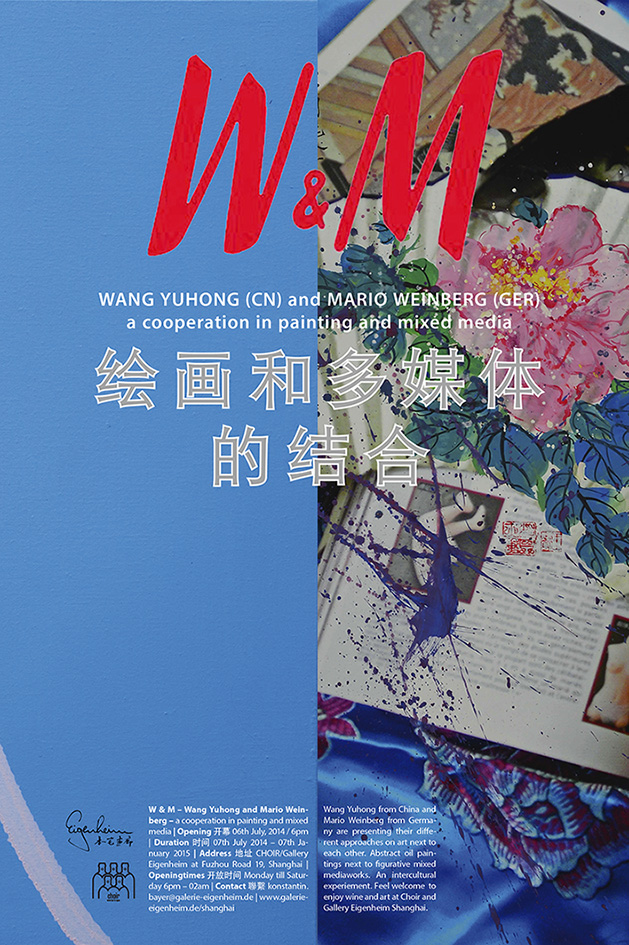 Opening 开幕 06th July, 2014 / 6pm | Duration 时间 07th July 2014 – 07th January 2015 | Wang Yuhong from China and Mario Weinberg from Germany are presenting their different approaches on art next to each other. Abstract oil paintings next to figurative mixed mediaworks. An intercultural experiement. A catalogue accompany the exhibition will be ready as print version for the opening of the 06.Juli,2014. Feel welcome to enjoy wine and art at Choir and Gallery Eigenheim Shanghai. Address 地址 CHOIR/Gallery Eigenheim at Fuzhou Road 19, Shanghai | Openingtimes 开放时间 Monday till Saturday 6pm – 02am
Wang Yuhong and Mario Weinberg
– The energy in between –
A collaboration between two painters of differing expressions, such as Wang Yuhong and Mario Weinberg, requires the artists to keep an open mind while also sharing an interest in each other's work and maintaining a confident approach to their independent style. The abstract, direct and impulsive approach as seen in Mario Weinberg's work stands in stark contrast to Wang Yuhong's contemplative and concrete subject related work. This exhibition displays the works of the artists as individual pieces by the individual artists; the artists did not work together on the individual paintings.
The artists' confidence stems solely on mutual interest and the belief in each other's expression. The only thing they agreed on is the format and the quantity of works to be shown at this exhibition. Outside of discussions regarding one another's works, there has been no direct dialogue between the artists about the compositions before displaying them at this exhibition.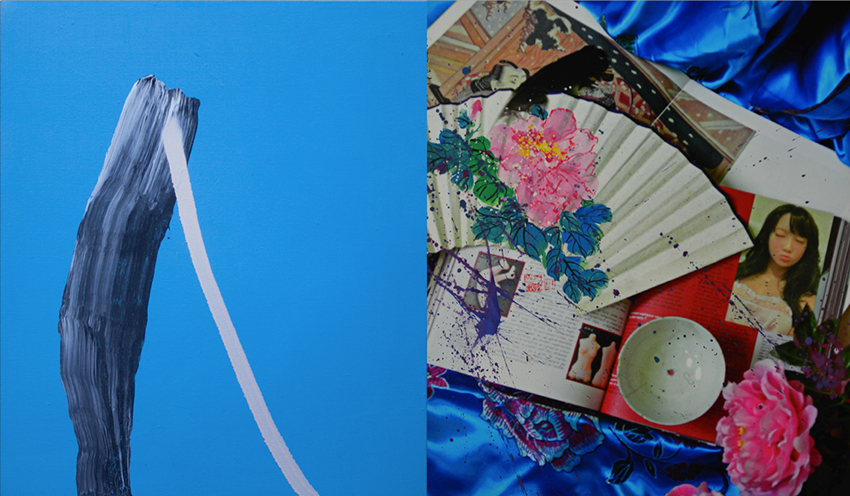 Both merely let their mutual interest and the contrast between their works form an intercultural and aesthetic experiment. Of course the risk of either one's work being over or undervalued exists in any such confrontation. When observing Weinberg's previous works there is a clear pattern of pop references and figurative references.While Yuhong displays opulent figurative works, in contrast Weinberg has since renounced object relations altogether. It is also interesting how Weinberg always deals with contradictions in his compositions. Thus he follows one of his basic principles: dealing with opposites such as the figurative and the abstraction, the monochrome colours against a plethora of colours. Yuhong too works with contrasts. While her still life paintings and photography works appear highly traditional at first glance, beyond the Chinese aesthetic there are clear Western influences mixed in. Yuhong's contrasts are these Western influences found in traditional Chinese still life paintings, with the Western aesthetic present in the form of excerpts of advertising, cultural objects or references to Western based artists. Both artist's create tension through their contrasts. Now both artists take another step further, putting their works and their approach head-to-head opposite each
other. It's a promising cooperation between two artists taking a brave step forward, and it appears as though both sides come out as winners! Here cultures, habits of observation, formalities and substantive approaches to art collide, resulting in something extraordinary. Two different approaches and different works seem to mutually strengthen one another, not breaking away when put side-to-side, but instead developing an obvious and intriguing tension which immediately reveals itself to the viewer.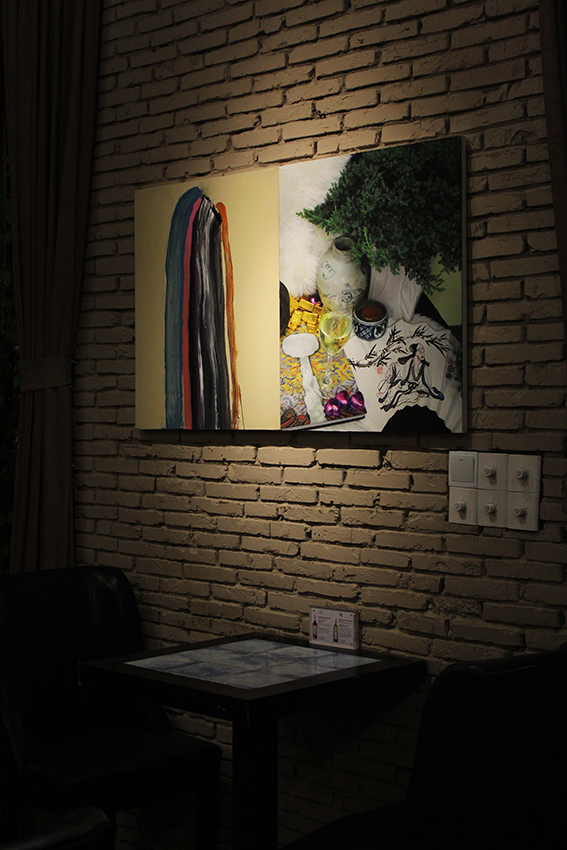 To discover the origin of these tensions, it is important to pin down both the differences and similarities present in these works. Firstly, it seems both sides are hiding something mystical. Wang Yuhong hides her content in the interwoven tales her still life creates, while Mario Weinberg's work fore goes a narrative to instead create a certain situativity at the moment of the work's creation; an ideal state of concentration in art and thus cryptic at heart. Both entertaining and goal oriented, much like intuition, Weinberg's gestural actions are captured on canvas by paint. Empty spaces boldly ignore opportunities; aggressive painted surfaces hide something beyond. Wang Yuhong arranges; Weinberg is acting, discarding and accumulating. Contemplation and concentration factor heavily in the works of both artists, and both seem to tap into pure instinct: Wang Yuhong by choosing the objects which her still life will consist of and the narrative value of each object in the subjective eye of the view; Mario Weinberg by his choice of colour and the determination he projects onto his movements. Furthermore, both sides break with traditions and viewing habits: Mario Weinberg in abstraction and the intentional break he creates with his use of non-harmonious compositions and colour coordination; Wang Yuhong through the creation of digital photographic illustrations of picturesque still lives and incorporating traditional Chinese ink paint into photographs. The balanced proportions and harmonious compositions of Wang Yuhong are now confronted with the opposites of Mario Weinberg's works. Both their works also share a destructive element: where Wang Yuhong adds expressive colour scores on a harmonious and well framed photograph, somehow harming it, Weinberg seems to create without the restrictions of a canvas in mind at all. We see how both sides conjure up their individual sense of mysticism and surrounding aura. Behind the obvious and less obvious differences and similarities in the works lay the clash of different cultural backgrounds inherent to this cooperation; the most interesting element which might lead us to answers when it comes to the energy found between Shanghai, China based artist Wang Yuhong and Munster, Germany based artist Mario Weinberg. It's well known that individuals converging from different cultural backgrounds are often catalyzers for something unforeseeable, mystic and unknown. The energy between these two individual works is in a way similar to a battery of electrons, with different loads creating a flow of energy between two poles; a force created between them. We are left with questions that may now be answered and change our perception. Does one work withstand the influence of another? Will the value of a work change? What kind of picture is created by the merging of two? Will it be a new picture altogether or merely a compilation of two different works? What effect does China have on a German painter? How does a German painter influence a
Chinese person? The two different cultural influences remain clearly visible in two separate and individual artistic expressions. While one could find an easy explanation in the cultural differences, there is more to the energy created between these two artists than just this. It is created by accident, it is created by conflicting spirituality and the genius behind the artistic works. To understand is unattainable and unexplainable. For now, we consider the cooperation bet ween these two artists a lucky coincidence for the Gallery Eigenheim in Shanghai; connecting cultures and catalyzing the resulting unpredictable forces. (text by Konstantin Bayer)