the rise of no revolt - Konstantin Bayer in Solo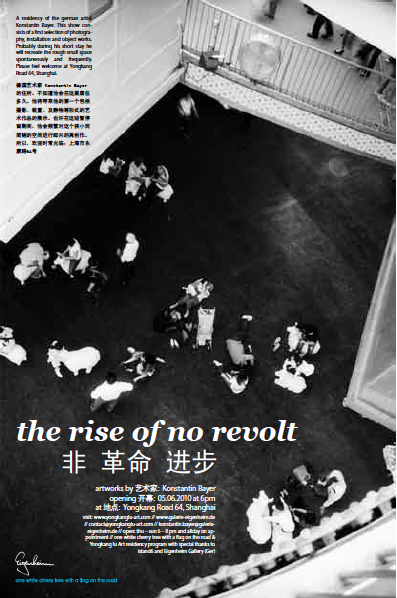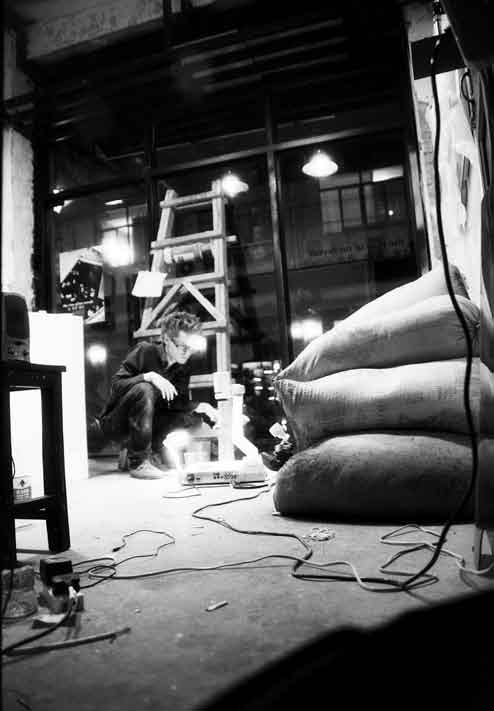 after one month in Shanghai I got an apartment – Taixing Road … and a new retail store for use in between as an art space … it was not the big love in the first moment but a big challenge … a new neighborhood … a new shop window ... an artistic residency ... – Yongkang Road 64 … I don't know for how long I can stay here … they can find a new tenant every day … but ok I get used to this feeling … I leave the condition of the room rough like it was … may I can stay longer … the rise of no revolt … do not wake up sleeping dogs … whether modern improvements in our life justify all the strains on life they bring about … a social criticism on human behavior worldwide … so everything stays the same … also the thing I have to realize … to do art and to communicate art … here in China a different challenge … work in place … I will not change the world with this exhibition … the rise of no revolt … production periods are very narrow … so I keep on working and express myself … so feel warmly welcome in this room and thanks for visiting...
Archeology of Waste – by Hunter Braithwaite, printed at Cityweekend Shanghai, 08th of July, 2010

Two months ago, Latvian artist and curator Zane Mellupe started converting storefronts on Yongkang Lu, the former site of a vegetable market, into small galleries. It's a great move for the local art scene, but the openings present questions of gentrification and cultural ownership.
Putting these issues to one side, there are currently three shows on display at the new spaces. At the YK gallery (72 Yongkang Lu), the Light Wave collective (also known as Abstract 6) presents a series of abstract photographs in "And There Were Waters and Mountains." By printing their work on silk, glass and stone, Light Wave invigorates pretty pictures that otherwise would be relegated to the closet of pictorialism. The space at No. 59 (the gallery is just known as No. 59) is being leased temporarily by ifa Gallery, and currently offers a small Liu Bolin show called Fist. Liu is best known for his photographic work, but here he presents farcical sculptures that are in keeping with Shanghai's almost Islamic aversion to serious representations of the figure.
At No. 64, Konstantin Bayer's the rise of no revolt plays on the relationship between locals and the implanted-culture industry.
In a tiny room, the German artist displays several relics that together form an archeology of waste. The floor is made of packed charcoal dust, giving it an aboriginal feeling or perhaps one of nuclear winter. A retro video projector records minnows swimming in a moldy fish tank. Some decompose on the surface of the water. Crayon scribbles on the back wall, remnants of the space's previous tenant, evoke both Lascaux, a site in France famous for its Paleolithic cave paintings, and the walls of orphanages. The rise of no revolt also touches on the topics of time misspent and energy squandered. A beckoning cat is turned to the wall so that its paw bangs on the concrete. The original beckoning is inverted to supply endless grieving, begging at the front door. Shards of pottery are set in concrete. Bayer is preoccupied with preservation, but, in many ways, he negates the utility of the preserved. What good are bowls filled with concrete? What does a vegetable market need with art galleries?


The new Shanghai art street: Yongkang Lu – published at www.cnngo.com, the 1st of July, 2010
... There are often people outside of No. 64, staring through the windows at Constantin Bayer's installation, the rise of no revolt. The German artist makes art that comments on the interchange between locals and cultural implants. Local culture inspires Bayer. "The Shanghainese energy is attractive. If the Starbucks come in, it's hard for the artist. When local culture goes, the art goes too. It's just not interesting." ...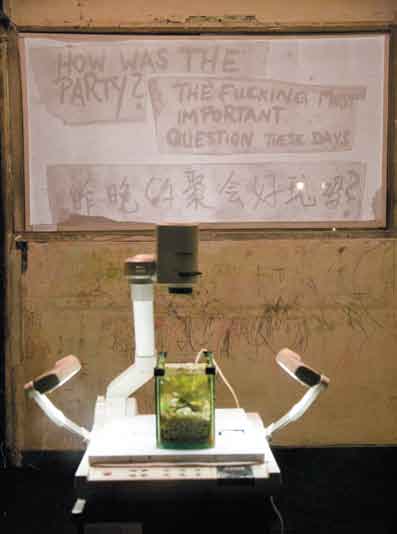 the rise of no revolt – Konstantin Bayer in Solo
As an artist, at some point, one has to be clear about the lengths to which one's personal policy is formulated as regarding political, social and global themes. Possibilities can always be found in more or less radical statements.
Some artists, however, are more radical in their approach than can be seen from an external point of view. Many times, works are only the most superficial layer of wildly branching chains of thought. Of course it needs to be said that artistic works are often reduced to the point that the inherent criticism silently rises to the surface. the rise of no revolt consciously plays with this subtlety. As a result of intervention from industrial lobbies, common customs or the fear of the new, it can be difficult for innovations to find the application they might deserve. To put it mildly, it seems that more often than not it is not quite the time for all of these developments to be reasonably applied. Konstantin Bayer seems to seek to fan the flames of attention and courage. Clarification and sensitization are important aspects of artistic work. Whether Konstantin Bayer is able to achieve these goals that he has set for himself is something that remains to be seen. So we should wait eagerly and observe his workings.Although the "better person" may not find himself or herself in the application of these ideals, it is clear that he or she is not an exception.
Circumstances require consequences. Falling down demands standing up; an innovation expects application with the prospect of improving the situation. Together, everyone bears the responsibility for the totality. For Konstantin Bayer, the objective is not only to come in contact with people, to initiate communication with them and to create a place for free expression and confrontation, but also to create zones of freedom for the interventions of third parties. Every guest takes on this last role.

The exhibition with photographic, installative and object-based works is the beginning of an artistic and curatorial residency and will be spontaneously and regularly developed over the course of his stay. New artistic works will be integrated in the exhibition in order to reflect upon current events from an artistic perspective. Although the length of his stay in this space is not certain, the opening is: The 29th of May, 2010 at 6pm.