JOINT - Lars Wild and Konstantin Bayer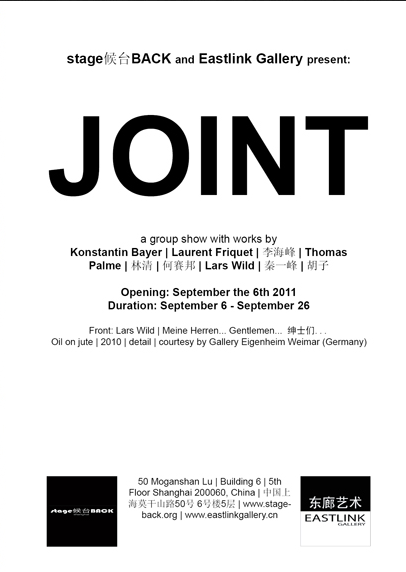 LARS WILD and KONSTANTIN BAYER at JOINT - EASTLINK/stageBACK Gallery Shanghai
Eigenheim Gallery artists Konstantin Bayer and Lars Wild are exhibiting at StageBACK/Eastlink Gallery Shanghai from 06th of September untill 26th of September 2011.
Immediately on Bayers arrival back in Shanghai - as of Monday, August 29, 2011 - Konstantin Bayer started to create his newest body of work, "Fragmants and Defragmentations". Similiar to his previous visit, he is once again dealing with thoughts of the clash between modernism and history, ideals and idols, borders in reality and fiction as well as the position of being a spectator in an exhibition of self-aware works. The medium he is using is highly gritty and tangible in its inclusion of objective collages and photographic installations within combined video works that shape fabricated, three-dimensional atmospheres.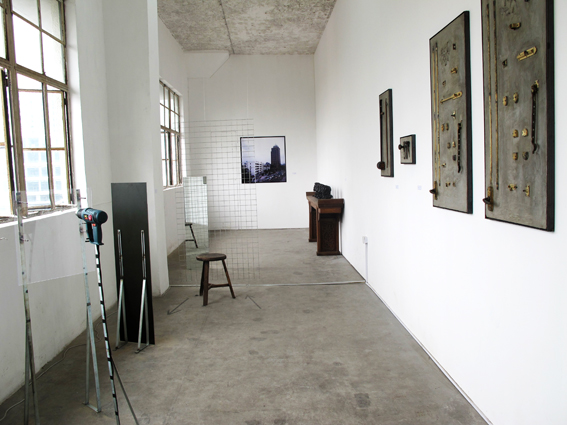 Konstantin Bayer was born 1983 in Germany. He has collected an MFA from Bauhaus University, Weimar and an MA in Communication from Tongji University Shanghai in 2011. Between 2008 and 2009 he studied in Shanghai before returning for a 3 month stay in 2010.Bayer is additionally the founder and art director of Eigenheim gallery in Germany. In a similar subject and manner, he has curated, participated and organized various exhibitions while in Shanghai, including "God Forgive Us" at Island6 Shack, Moganshan Road 116 in 2008, "The Rise of No Revolt" at Yongkang Lu 64 Artspace in 2010 as well as various other exhibitions in Marseille, Leipzig and Berlin.In 2010, he collaborated with stage候台BACK gallery initiating the one day guerrilla art exhibition "M120 – Moganshan Re-used!" at Moganshan Road 120, the place of his first artistic and curatorial residency in Shanghai 2008/2009.
This time Konstantin Bayer brought Lars Wild as one of the Eigenheim Gallery artists into this show. Lars Wild shows large paintings on linen and small drawings on cardbord.