ENRICO FREITAG UND LARS WILD at Chivalrous Cantaloup Commune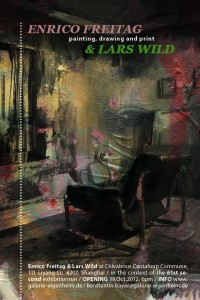 One year after Chivalrous Cantaloup Commune (Wang Yuhong) and Galerie Eigenheim (Konstantin Bayer) cooperated first, it happend a lot in case of their artistic and curatorial experience. Early this year Wang Yuhong, Lin Yuan und Luo Ling were visiting Weimar and exhibiting at Galerie Eigenheim in Germany. Artists from Galerie Eigenheim were shown by Wang Yuhong at some exhibitions in Shanghai. One can say that a very good relation between this two institution is formed. This needs to be continued! This year Chivalrous Cantaloup Commune and Galerie Eigenheim are showing works by Enrico Freitag and Lars Wild. The two artists having strong unique approach in painting and drawing, both studied at Bauhaus-University in Weimar, both exhibited in Shanghai before. Later this year Galerie Eigenheim will show a soloexhibition of Wang Yuhong in Weimar.
So stay informed at www.galerie-eigenheim.de

> Enrico Freitag
Search and find, work and life are virtues in which the painter not only embody the existence of man, but also can get an insight into the deep work of the artist himself. Freitags works allow the viewer to occasionally delve into dark environments. Perspectives branch deep into the space, portraits become mystical images, which can be personality issues openly, groups of people forming social structures and behaviors, thought patterns get revealed. Protagonists are waiting, but in an active, though contemplative state. At the same time, however, avoid and absent is the part of the image content. Fragments of his own studio environment oscillate with a collage constructed spaces. So the pictures tell about the search for the meaning of individual existence, as well as the painter's prozess of searching subject and content. With their picturesque quality, these works beared some resemblance to a fairytale, whilst still maintaining a sense of reality.

> Lars Wild
In the beginning, Wild's artistic concepts were expressed in the form of graffiti. The motivation for such work stemmed from an interest in situations and themes relating to social helplessness and dependency. This was the starting point for what became a regular situation for Wild; being in a state of constant self-reflection and observation. Personal sensitivity allows him to be in tune with subjects and objects in his work. Wild always finds painting to be emotionally confronting. Hence, his work is always sincere
and honest. Sometimes he mix this kind of topic with humor like in "the hidden message".