Eigenheim gallery weimar shanghai 2010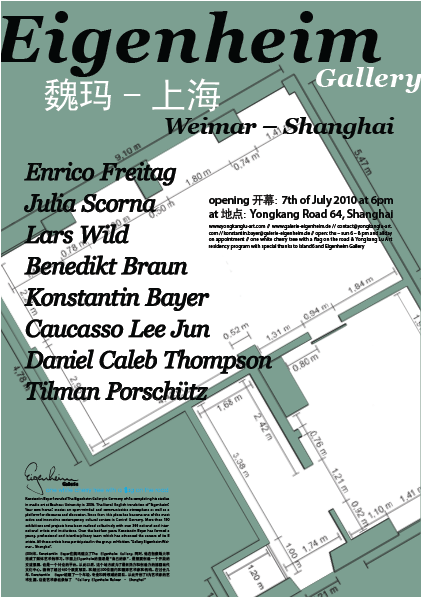 a new exhibition at the small art venue at Yongkang Road 64 in Shanghai shows "Eigenheim Gallery Weimar – Shanghai"on Wednesday the 7th of July 2010.
"The Eigenheim Gallery" is based in Weimar (Germany) since 2006.The literal, English translation of "Eigenheim", your own home", creates an open-minded and communicative atmosphere as well as a platform for discourse and discussion. More then 180 exhibitions and projects have been realized collectively with over 300 national and international artists and institutions. Over the last few years, the founder Konstantin Bayer, has formed a young, professional and interdisciplinary team, which has advanced the careers of its 8 artists. All these artists have participated in the group exhibition, "Gallery Eigenheim Weimar – Shanghai". The artists involved are: Enrico Freitag, Julia Scorna, Lars Wild, Benedikt Braun, Konstantin Bayer, Daniel Caleb Thompson, Tilman Porschütz and Caucasso Lee Jun. They show photography, painting, object and video works.
So feel warmly welcome to the exhibition opening at Yongkang Road 64, Shanghai on Wednesday the 7th of July 2010 at 6pm. We are happy to welcome Thomas Arthur Bligh Pryle as our house musician escorting through the evening with art, wine and fun…