Konstantin Bayer
A MIRAGE SIMILAR TRUTHS - paintings by Zhao Yang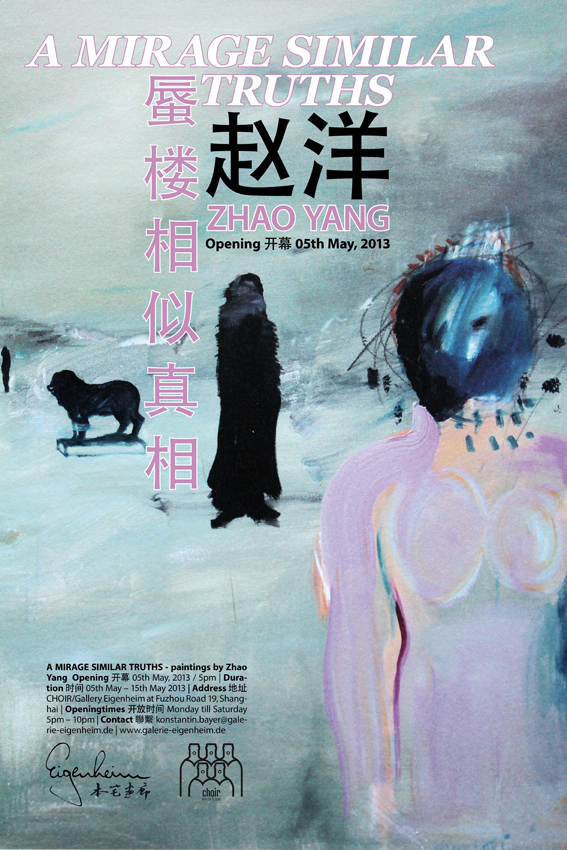 A MIRAGE SIMILAR TRUTHS - paintings by Zhao Yang Opening 开幕 05th of May, 2013 / 5pm | Duration 时间 06th of May – 15th of May 2013 | Address 地址 CHOIR/Gallery Eigenheim at Fuzhou Road 19, Shanghai | Openingtimes 开放时间 Monday till Saturday 5pm – 10pm | Contact 聯繫 konstantin.bayer@galerie-eigenheim.de | www.galerie-eigenheim.de
The narration and figuration of the images of Zhao Yang immerse into a world of dreams that are not sweet, rather a reflection of the bitter seriousness of the world today, as he see it. Thereby a mystical, an almost impalpable vision emerge in which human and animal creates a deterrent similarly that seems to be caught in the vicinity of a doomsday situation. Some images could be easily a cut out of a science fiction movie. Gloomy are his visions, nearby a subconscious foreboding, which must be similar to a transcendental inspiration that have to be directly banned on canvas. Blurred unfinished-looking facial expressions, gestures and scenery, nondescripted objects floating in space as well as separated bodyparts form a surreal overall picture. Mysteriously human and animal merge into each other creating unknown mythical creatures. In total, the narrative remains uncertain, limited to statements of action and object in conjunction with the environment. Surroundings and protagonist twist to cutting narratives and leave room for imagination and interpretation, but at the same time demand a lot from the viewer.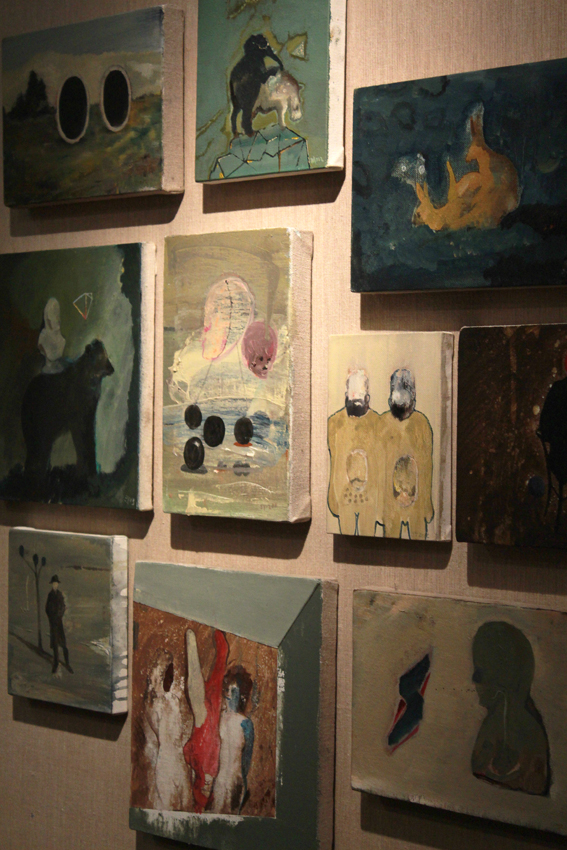 After prolonged viewing even entirely abstract looking images can emerge mirage similar truths. Perhaps the expression of a search for something veritable. Is there on the horizon really something tangible, or is the world around us just an impenetrable tangle of ugly truths? Like a dark drapery a premonition of what is happening is covering our senses and leave us alone with an expression of dizziness and mental confusion. The brushwork of Zhao Yang is oversubscribed, partly worked out fine applied partly brought to the canvas thick like a sculpture. The color palette is coherent, somewhere between natural realistic and a nuclear fallout and throughout the earthy lowering supporting the gloomy atmosphere. Zhao Yang seems to be surprised by his inspirations which can be a reason for the hectic way of painting which is alive, passionate and stirring. The handling of the canvas seems to be part of a struggle between the elusive inner sensibilities in contrast with the world outside.
So if you are around in Shanghai you are welcome to the opening reseption at CHOIR/Gallery Eigenheim on Sunday the 5th of May at 5pm.